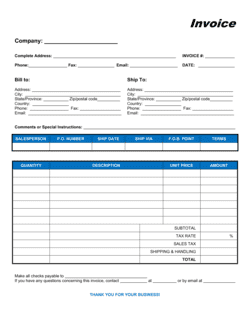 Commercial Sales Invoice Template
This commercial sales invoice template has 1 pages and is a MS Word file type listed under our finance & accounting documents.
Sample of our commercial sales invoice template:
This is a business document issued when a sale occurs. The form includes information such as items purchased, date of purchase, cost, and name of buyer and seller.
All the Templates You Need to Plan, Start, Organize, Manage, Finance & Grow Your Business, in One Place.
Templates and Tools to Manage Every Aspect of Your Business.
8 Business Management Modules, In 1 Place.