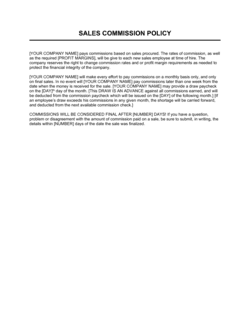 Sales Commission Policy Template
This sales commission policy template has 1 pages and is a MS Word file type listed under our human resources documents.
Sample of our sales commission policy template:
SALES COMMISSION POLICY [YOUR COMPANY NAME] pays commissions based on sales procured. The rates of commission, as well as the required [PROFIT MARGINS], will be give to each new sales employee at time of hire. The company reserves the right to change commission rates and or profit margin requirements as needed to protect the financial integrity of the company. [YOUR COMPANY NAME] will make every effort to pay commissions on a monthly basis only, and only on final sales. In no event will [YOUR COMPANY NAME] pay commissions later than one week from the date when the money is received for the sale. [YOUR COMPANY N
All the Templates You Need to Plan, Start, Organize, Manage, Finance & Grow Your Business, in One Place.
Templates and Tools to Manage Every Aspect of Your Business.
8 Business Management Modules, In 1 Place.