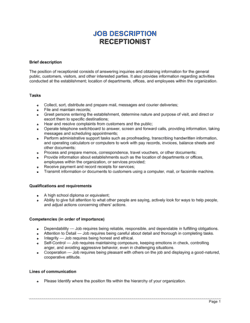 Receptionist Job Description Template
This receptionist job description template has 2 pages and is a MS Word file type listed under our human resources documents.
Sample of our receptionist job description template:
Page 1 JOB DESCRIPTION RECEPTIONIST Brief description The position of receptionist consists of answering inquiries and obtaining information for general public, customers, visitors, and other interested parties. It also consists of providing information regarding activities conducted at establishment; location of departments, offices, and employees within organization. Tasks • Collect, sort, distribute and prepare mail, messages and courier deliveries; • File and maintain records; • Greet persons entering establishment, determine nature and purpose of visit, and direct or escort them to specific destinations; • Hear and resolve complaints from customers and public; • Operate telephone switchboard to answer, screen and forward calls, providing information, taking messages and scheduling appointments; • Perform administrative support tasks such as proofreading, transcribing handwritten information, and operating calculators or
All the Templates You Need to Plan, Start, Organize, Manage, Finance & Grow Your Business, in One Place.
Templates and Tools to Manage Every Aspect of Your Business.
8 Business Management Modules, In 1 Place.