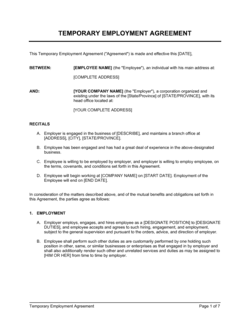 Temporary Employment Contract Template
This temporary employment contract template has 7 pages and is a MS Word file type listed under our human resources documents.
Sample of our temporary employment contract template:
TEMPORARY EMPLOYMENT AGREEMENT This Temporary Employment Agreement ("Agreement") is made and effective this [DATE], BETWEEN: [EMPLOYEE NAME] (the "Employee"), an individual with his main address at: [COMPLETE ADDRESS] AND: [YOUR COMPANY NAME] (the "Employer"), a corporation organized and existing under the laws of the [State/Province] of [STATE/PROVINCE], with its head office located at: [YOUR COMPLETE ADDRESS] RECITALS Employer is engaged in the business of [DESCRIBE], and maintains a branch office at [ADDRESS], [CITY], [STATE/PROVINCE]. Employee has been engaged and has had a great deal of experience in the above-designated business. Employee is willing to be employed by employer, and employer is willing to employ employee, on the terms, covenants, and conditions set forth in this Agreement. Employee will begin working at [COMPANY NAME] on [START DATE]. Employment of the Employee will end on [END DATE]. In consideration of the matters described above, and of the mutual benefits and obligations set forth in this Agreement, the parties agree as follows:
All the Templates You Need to Plan, Start, Organize, Manage, Finance & Grow Your Business, in One Place.
Templates and Tools to Manage Every Aspect of Your Business.
8 Business Management Modules, In 1 Place.