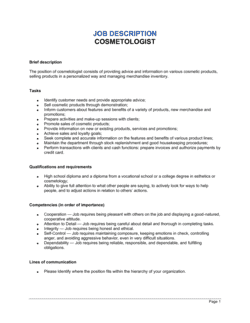 Cosmetologist Job Description Template
This cosmetologist job description template has 2 pages and is a MS Word file type listed under our human resources documents.
Sample of our cosmetologist job description template:
Page 1 JOB DESCRIPTION COSMETOLOGIST Brief description The position of cosmetologist consists of providing advice and information on various cosmetic products, selling products in a personalized way and managing merchandise inventory. Tasks • Identify customer needs and provide appropriate advices; • Sell cosmetic products through demonstration; • Inform customers about features and benefits of a variety of products, new merchandise and promotions; • Prepare activities and make-up sessions with clients; • Promote sales of cosmetic products; • Provide information on new or existing products, services and promotions; • Achieve sales and loyalty goals; • Seek complete and accurate information on the features and benefits of various product lines; • Maintain the department through stock replenishment and good housekeeping procedures; • Perform transactions with clients and cash functions: prepare invoices and authorize payments
All the Templates You Need to Plan, Start, Organize, Manage, Finance & Grow Your Business, in One Place.
Templates and Tools to Manage Every Aspect of Your Business.
8 Business Management Modules, In 1 Place.