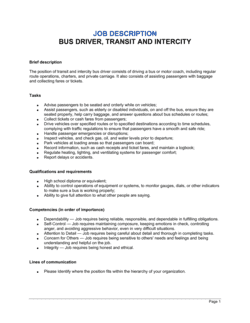 Bus Driver_Transit and Intercity Job Description Template
This bus driver_transit and intercity job description template has 2 pages and is a MS Word file type listed under our human resources documents.
Sample of our bus driver_transit and intercity job description template:
Page 1 JOB DESCRIPTION BUS DRIVER, TRANSIT AND INTERCITY Brief description The position of transit and intercity bus driver consists of driving a bus or motor coach, including regular route operations, charters, and private carriage. It also consists of assisting passengers with baggage, and collecting fares or tickets. Tasks • Advise passengers to be seated and orderly while on vehicles; • Assist passengers, such as elderly or disabled individuals, on and off bus, ensure they are seated properly, help carry baggage, and answer questions about bus schedules or routes; • Collect tickets or cash fares from passengers; • Drive vehicles over specified routes or to specified destinations according to time schedules, complying with traffic regulations to ensure that passengers have a smooth and safe ride; • Handle passenger emergencies or disruptions; • Inspect vehicles, and check gas, oil, and water levels prior to departure; • P
All the Templates You Need to Plan, Start, Organize, Manage, Finance & Grow Your Business, in One Place.
Templates and Tools to Manage Every Aspect of Your Business.
8 Business Management Modules, In 1 Place.