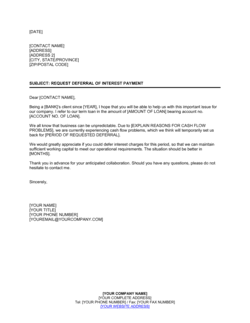 Request Deferral of Interest Payment Template
This request deferral of interest payment template has 1 pages and is a MS Word file type listed under our finance & accounting documents.
Sample of our request deferral of interest payment template:
OBJECT: REQUEST DEFERRAL OF INTEREST PAYMENT Dear [CONTACT NAME], Being a [BANK]'s client since [YEAR], I hope that you will be able to help us with this important issue for our company. I refer to our term loan in the amount of [AMOUNT OF LOAN] bearing account no. [ACCOUNT NO. OF LOAN]. We all know that business can be unpredictable. Due to [EXPLAIN REASONS FOR CASH FLOW PROBLEMS], we are currently experiencing cash flow problems, which we think will temporarily set us back for [PERIOD OF REQUESTED DEFERRAL]. We would grea
All the Templates You Need to Plan, Start, Organize, Manage, Finance & Grow Your Business, in One Place.
Templates and Tools to Manage Every Aspect of Your Business.
8 Business Management Modules, In 1 Place.