Payment Agreement Template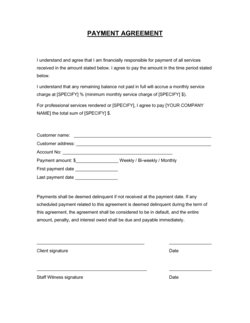 This payment agreement template has 1 pages and is a MS Word file type listed under our legal agreements documents.
Sample of our payment agreement template:
I understand and agree that I am financially responsible for payment of all services received in the amount stated below. I agree to pay the amount in the time period stated below. I understand that any remaining balance not paid in full will accrue a monthly service charge at [SPECIFY] % (minimum monthly service charge of [SPECIFY] $). For professional services rendered or [SPECIFY], I agree to pay [YOUR COMPANY NAME] the total sum of [SPECIFY] $.