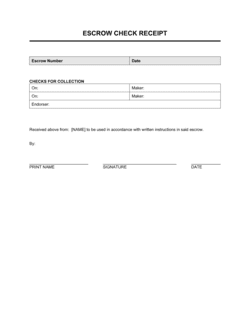 Escrow Check Receipt Template
This escrow check receipt template has 1 pages and is a MS Word file type listed under our finance & accounting documents.
Sample of our escrow check receipt template:
ESCROW CHECK RECEIPT Escrow Number Date CHECKS FOR COLLECTION On: Maker: On: Maker: Endorser: Received above from: [NAME] to be used in accordance with written instructions in said escrow. By: PRINT NAME SIGNATURE DATE ©
All the Templates You Need to Plan, Start, Organize, Manage, Finance & Grow Your Business, in One Place.
Templates and Tools to Manage Every Aspect of Your Business.
8 Business Management Modules, In 1 Place.