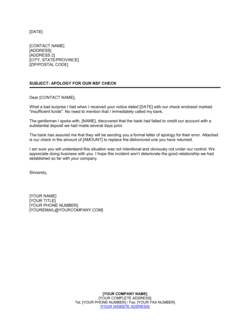 Apology to Receiver of NSF Check Template
This apology to receiver of nsf check template has 1 pages and is a MS Word file type listed under our finance & accounting documents.
Sample of our apology to receiver of nsf check template:
OBJECT: APOLOGY FOR OUR NSF CHECK Dear [CONTACT NAME], What a bad surprise I had when I received your notice dated [DATE] with our check enclosed marked "insufficient funds". No need to mention that I immediately called my bank. The gentleman I spoke with, [NAME], discovered that the bank had failed to credit our account with a substantial deposit we had made several days prior. The bank has assured me that they will be sending you a formal letter of apology for their error. Attached is our check in the amount of [AMOUNT] t
All the Templates You Need to Plan, Start, Organize, Manage, Finance & Grow Your Business, in One Place.
Templates and Tools to Manage Every Aspect of Your Business.
8 Business Management Modules, In 1 Place.