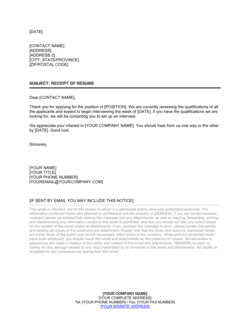 Receipt of Resume Template
This receipt of resume template has 1 pages and is a MS Word file type listed under our human resources documents.
Sample of our receipt of resume template:
OBJECT: RECEIPT OF RESUME Dear [CONTACT NAME], Thank you for applying for the position of [POSITION]. We are currently reviewing the qualifications of all the applicants and expect to begin interviewing the week of [DATE]. If you have the qualifications we are looking for, we will be contacting you to set up an interview. We appreciate your interest in [YOUR COMPANY NAME]. You should hear from us one way or the other by [DATE]. Good luck. [YOUR NAME] [YOUR TITLE] [YOUR PHONE NUMBER] [YOUREMAIL@YOURCOMPANY.COM] [IF SENT BY
All the Templates You Need to Plan, Start, Organize, Manage, Finance & Grow Your Business, in One Place.
Templates and Tools to Manage Every Aspect of Your Business.
8 Business Management Modules, In 1 Place.