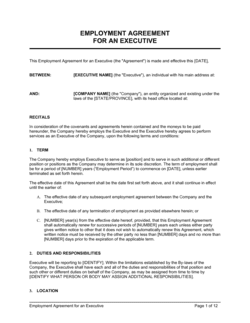 Employment Agreement Executive Template
This employment agreement executive template has 12 pages and is a MS Word file type listed under our human resources documents.
Sample of our employment agreement executive template:
EMPLOYMENT AGREEMENT FOR AN EXECUTIVE This Employment Agreement for an Executive (the "Agreement") is made and effective this [DATE], BETWEEN: [EXECUTIVE NAME] (the "Executive"), an individual with his main address at: AND: [COMPANY NAME] (the "Company"), an entity organized and existing under the laws of the [STATE/PROVINCE], with its head office located at: RECITALS In consideration of the covenants and agreements herein contained and the moneys to be paid hereunder, the Company hereby employs the Executive and the Executive hereby agrees to perform services as an Executive of the Company, upon the followin
All the Templates You Need to Plan, Start, Organize, Manage, Finance & Grow Your Business, in One Place.
Templates and Tools to Manage Every Aspect of Your Business.
8 Business Management Modules, In 1 Place.