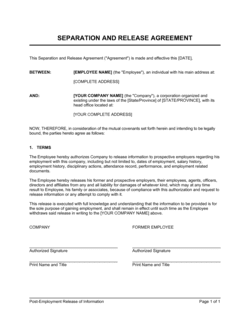 Post-Employment Information Release Agreement Template
This post-employment information release agreement template has 1 pages and is a MS Word file type listed under our human resources documents.
Sample of our post-employment information release agreement template:
SEPARATION AND RELEASE AGREEMENT This Separation and Release Agreement ("Agreement") is made and effective this [DATE], BETWEEN: [EMPLOYEE NAME] (the "Employee"), an individual with his main address at: [COMPLETE ADDRESS] AND: [YOUR COMPANY NAME] (the "Company"), a corporation organized and existing under the laws of the [State/Province] of [STATE/PROVINCE], with its head office located at: [YOUR COMPLETE ADDRESS] NOW, THEREFORE, in consideration of the mutual covenants set forth herein and intending to be legally bound, the parties hereto agree as follows: 1. TERMS The Employee hereby authorizes Company to
All the Templates You Need to Plan, Start, Organize, Manage, Finance & Grow Your Business, in One Place.
Templates and Tools to Manage Every Aspect of Your Business.
8 Business Management Modules, In 1 Place.