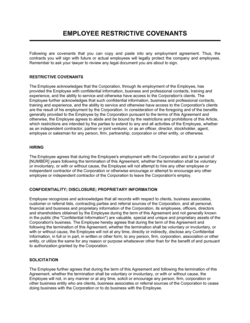 Restrictive Covenants for Employment Agreements Template
This restrictive covenants for employment agreements template has 3 pages and is a MS Word file type listed under our human resources documents.
Sample of our restrictive covenants for employment agreements template:
EMPLOYEE RESTRICTIVE COVENANTS Following are covenants that you can copy and paste into any employment agreement. Thus, the contracts you will sign with future or actual employees will legally protect the company and employees. Remember to ask your lawyer to review any legal document you are about to sign. RESTRICTIVE COVENANTS The Employee acknowledges that the Corporation, through its employment of the Employee, has provided the Employee with confidential information, business and professional contacts, training and experience, and the ability to service and otherwise have access to the Corpora
All the Templates You Need to Plan, Start, Organize, Manage, Finance & Grow Your Business, in One Place.
Templates and Tools to Manage Every Aspect of Your Business.
8 Business Management Modules, In 1 Place.