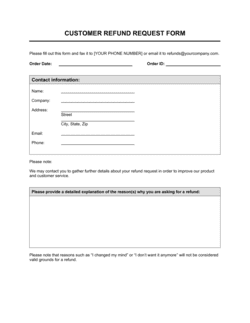 Refund Request Form Template
This refund request form template has 2 pages and is a MS Word file type listed under our sales & marketing documents.
Sample of our refund request form template:
CUSTOMER REFUND REQUEST FORM Please fill out this form and fax it to [YOUR PHONE NUMBER] or email it to refunds@yourcompany.com. Order Date: Order ID: Contact information: Name: Company: Address: Street City, State, Zip Email:
All the Templates You Need to Plan, Start, Organize, Manage, Finance & Grow Your Business, in One Place.
Templates and Tools to Manage Every Aspect of Your Business.
8 Business Management Modules, In 1 Place.