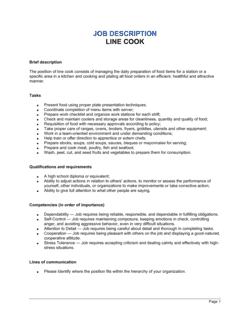 Line Cook Job Description Template
This line cook job description template has 2 pages and is a MS Word file type listed under our human resources documents.
Sample of our line cook job description template:
Page 1 JOB DESCRIPTION LINE COOK Brief description The position of line cook consists of managing the daily preparation of food items for a station or a specific area in a kitchen and cooking and plating all food orders in an efficient, healthful and attractive manner. Tasks • Present food using proper plate presentation techniques; • Coordinate completion of menu items with server; • Prepare work checklist and organize work stations for each shift; • Check and maintain coolers and storage areas for cleanliness, quantity and quality of food; • Requisition of food with necessary approvals according to policy; • Take proper care of ranges, ovens, broilers, fryers, griddles, utensils and other equipment; • Work in a team-oriented environment and under demanding conditions; • Help train or offer direction to apprentice or extern chefs; • Prepare stocks, soups, cold soups, sauces, bisques or mayonnaise for serving; • Prepare an
All the Templates You Need to Plan, Start, Organize, Manage, Finance & Grow Your Business, in One Place.
Templates and Tools to Manage Every Aspect of Your Business.
8 Business Management Modules, In 1 Place.