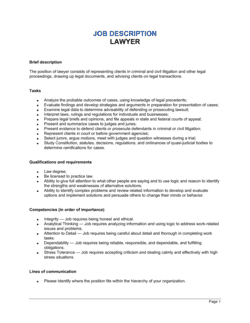 Lawyer Job Description Template
This lawyer job description template has 2 pages and is a MS Word file type listed under our human resources documents.
Sample of our lawyer job description template:
Page 1 JOB DESCRIPTION LAWYER Brief description The position of lawyer consists of representing clients in criminal and civil litigation and other legal proceedings, drawing up legal documents, and advising clients on legal transactions. Tasks • Analyze the probable outcomes of cases, using knowledge of legal precedents; • Evaluate findings and develop strategies and arguments in preparation for presentation of cases; • Examine legal data to determine advisability of defending or prosecuting lawsuit; • Interpret laws, rulings and regulations for individuals and businesses; • Prepare legal briefs and opinions, and file appeals in state and federal courts of appeal; • Present and summarize cases to judges and juries; • Present evidence to defend clients or prosecute defendants in criminal or civil litigation; • Represent clients in court or before government agencies; • Select jurors, argue motions, meet with judges and questi
All the Templates You Need to Plan, Start, Organize, Manage, Finance & Grow Your Business, in One Place.
Templates and Tools to Manage Every Aspect of Your Business.
8 Business Management Modules, In 1 Place.