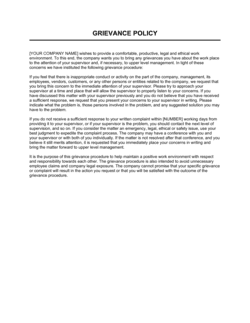 Grievance Policy Template
This grievance policy template has 1 pages and is a MS Word file type listed under our human resources documents.
Sample of our grievance policy template:
GRIEVANCE POLICY [YOUR COMPANY NAME] wishes to provide a comfortable, productive, legal and ethical work environment. To this end, the company wants you to bring any grievances you have about the work place to the attention of your supervisor and, if necessary, to upper level management. In light of these concerns we have instituted the following grievance procedure: If you feel that there is inappropriate conduct or activity on the part of the company, management, its employees, vendors, customers, or any other persons or entities related to the company, we request that you bring this concern to the immediate
All the Templates You Need to Plan, Start, Organize, Manage, Finance & Grow Your Business, in One Place.
Templates and Tools to Manage Every Aspect of Your Business.
8 Business Management Modules, In 1 Place.