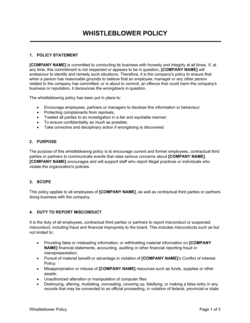 Whistleblower Policy Template
This whistleblower policy template has 3 pages and is a MS Word file type listed under our human resources documents.
Sample of our whistleblower policy template:
WHISTLEBLOWER POLICY 1. POLICY STATEMENT [COMPANY NAME] is committed to conducting its business with honesty and integrity at all times. If, at any time, this commitment is not respected or appears to be in question, [COMPANY NAME] will endeavour to identify and remedy such situations. Therefore, it is the company's policy to ensure that when a person has reasonable grounds to believe that an employee, manager or any other person related to the company has committed, or is about to commit, an offence that could harm the company's business or reputation, it denounces the wrongdoers in question. The whistleblowing policy has been put in place to: • Encourage employees, partners or managers to disclose this information or behaviour; • Protecting complainants from reprisals; • Treated all parties to an investigation in a fair and equitable manner; • To ensure confidentiality as much as possible; • Take corrective and disciplinary action if wrongdoing is discovered. 2. PURPOSE
All the Templates You Need to Plan, Start, Organize, Manage, Finance & Grow Your Business, in One Place.
Templates and Tools to Manage Every Aspect of Your Business.
8 Business Management Modules, In 1 Place.