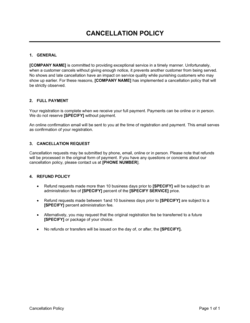 Cancellation Policy Template
This cancellation policy template has 1 pages and is a MS Word file type listed under our human resources documents.
Sample of our cancellation policy template:
CANCELLATION POLICY 1. GENERAL [COMPANY NAME] is committed to providing exceptional service in a timely manner. Unfortunately, when a customer cancels without giving enough notice, it prevents another customer from being served. No shows and late cancellation have an impact on service quality while punishing customers who may show up earlier. For these reasons, [COMPANY NAME] has implemented a cancellation policy that will be strictly observed. 2. FULL PAYMENT
All the Templates You Need to Plan, Start, Organize, Manage, Finance & Grow Your Business, in One Place.
Templates and Tools to Manage Every Aspect of Your Business.
8 Business Management Modules, In 1 Place.