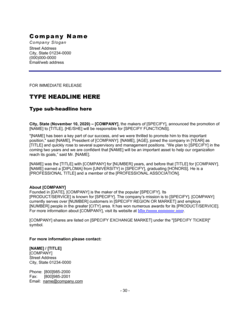 Press Release Promotion of Employee Template
This press release promotion of employee template has 1 pages and is a MS Word file type listed under our sales & marketing documents.
Sample of our press release promotion of employee template:
Company Name Company Slogan Street Address City, State 01234-0000 (000)000-0000 Email/web address FOR IMMEDIATE RELEASE TYPE HEADLINE HERE Type sub-headline here City, State (May 3, 2010) – [COMPANY], the makers of [SPECIFY], announced the promotion of [NAME] to [TITLE]. [HE/SHE] will be responsible for [SPECIFY FUNCTIONS]. "[NAME] has been a key part of our success, and we were thrilled to promote him to this important position," said [NAME], President of [COMPANY]. [NAME], [AGE], joined the company in [YEAR] as [TITLE] and quickly rose to several supervisory and management positions. "We plan to [SPECIF
All the Templates You Need to Plan, Start, Organize, Manage, Finance & Grow Your Business, in One Place.
Templates and Tools to Manage Every Aspect of Your Business.
8 Business Management Modules, In 1 Place.