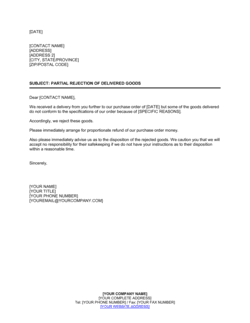 Partial Rejection of Non-Conforming Goods Template
This partial rejection of non-conforming goods template has 1 pages and is a MS Word file type listed under our production & operations documents.
Sample of our partial rejection of non-conforming goods template:
OBJECT: PARTIAL REJECTION OF DELIVERED GOODS Dear [CONTACT NAME], We received a delivery from you further to our purchase order of [DATE] but some of the goods delivered do not conform to the specifications of our order because of [SPECIFIC REASONS]. Accordingly, we reject these goods. Please immediately arrange for proportionate refund of our purchase order money. Also please immediately advise us as to the disposition of the rejected goods. We caution you that we will accept no responsibility for their safekeeping if we do
All the Templates You Need to Plan, Start, Organize, Manage, Finance & Grow Your Business, in One Place.
Templates and Tools to Manage Every Aspect of Your Business.
8 Business Management Modules, In 1 Place.