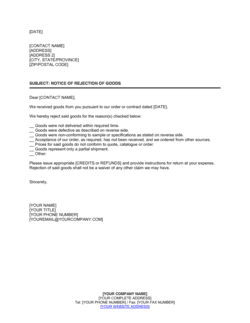 Notice of Rejection of Goods Template
This notice of rejection of goods template has 1 pages and is a MS Word file type listed under our production & operations documents.
Sample of our notice of rejection of goods template:
OBJECT: NOTICE OF REJECTION OF GOODS Dear [CONTACT NAME], We received goods from you pursuant to our order or contract dated [DATE]. We hereby reject said goods for the reason(s) checked below: __ Goods were not delivered within required time. __ Goods were defective as described on reverse side. __ Goods were non-conforming to sample or specifications as stated on reverse side. __ Acceptance of our order, as required, has not been received, and we ordered from other sources. __ Prices for said goods do not conform to quote
All the Templates You Need to Plan, Start, Organize, Manage, Finance & Grow Your Business, in One Place.
Templates and Tools to Manage Every Aspect of Your Business.
8 Business Management Modules, In 1 Place.