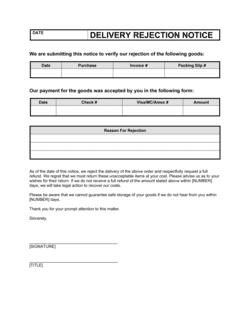 Delivery Rejection Notice Template
This delivery rejection notice template has 1 pages and is a MS Word file type listed under our production & operations documents.
Sample of our delivery rejection notice template:
DATE DELIVERY REJECTION NOTICE We are submitting this notice to verify our rejection of the following goods: Date Purchase Invoice # Packing Slip # Our payment for the goods was accepted by you in the following form: Date Check # Visa/MC/Amex # Amount Reason For Rejection As of the date of this notice, we reject the delivery of the above order and respectfully request a full refund. We regret that we must return these unacceptable items at your cost. Please advise us as to your wishes for their return. If we do not receive a full refund of the amount stated above within [NUMBER] days, we will take legal actio
All the Templates You Need to Plan, Start, Organize, Manage, Finance & Grow Your Business, in One Place.
Templates and Tools to Manage Every Aspect of Your Business.
8 Business Management Modules, In 1 Place.