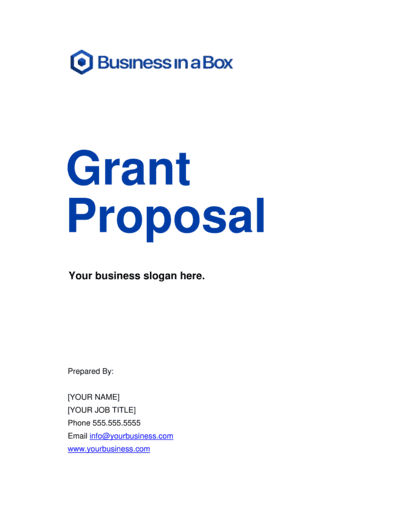 Grant Proposal Template
Understanding a Grant Proposal
Grant Proposals form a vital part of the funding process for non-profit and for-profit organizations as well as for various social projects and initiatives. The function of a grant proposal is to introduce and initiate the funding process with a preselected funder that would be aligned with the proposed project values or have a business interest in the successful completion of an initiative. Many social projects and non-profit organizations use grant proposals exclusively to fund their various projects and the market could be challenging to break into if you are not skilled at writing powerful grant proposals.
Without a captivating proposal, your grant request will most likely fall into the cracks and your project will fail. Writing powerful grant proposals consist of making sure that you grab the attention of your audience and seamlessly guide them through your project and the benefit potential for the organization and your beneficiaries.
Your Grant Proposal must be formatted correctly and contain all the relative project information in an easy-to-read format so that your proposal is viewed by as many potential grantees as possible. The grantees that you submit your proposal to will no doubt afford you with keen attention for your grant proposal if formatted correctly, conveys your needs and project details clearly and concisely.
Contents of the Grant Proposal Template
To create a grant proposal that will succeed in delivering your message, there are a few things that you need to keep in mind. Most importantly are the contents of the proposal, it should contain every detail of your project or need so that the grantees (those who will be reading your proposal) will fully understand your grant request. Business-in-a-Box offers you expertly designed document templates that are fully compliant with the latest regulation and industry standards. All the templates are designed by lawyers and business experts to give you the most convenient way of creating your Proposals and to ensure that you provide every relevant detail when submitting your grant proposal.
A grant proposal template must include the following sections:
Cover Letter - Along with the front page, the cover letter expresses the core details of your proposal. The cover letter must be addressed to a specific person in the grant organization and you will provide the basis for your grant request. Your cover letter must be captivating and engaging, this way you will create an excellent first impression of your project and the various needs you would like to address. Although the letter is the first part of your grant proposal, you would do well to write it as the last step of the template process. This way you will have the most compelling details in the cover letter which will make the grant officials want to read the rest of your proposal.
Proposal Summary - The proposal summary or executive summary is the short paragraph that outlines the details of your need and what the project aims to achieve. The summary can be only a few sentences but not longer than a few impactful paragraphs. Be mindful to not be too long-winded in your summary as this will detract from the rest of the grant proposal.

Introduction - This is where you introduce your organization and its key staff members. You should include brief biographies of your key members and some of the past successes of your organization so that your grantees can see that you can achieve your next project. You can also include letters of recommendation from previous clients and grantees to show that your organization has the capacity and experience to fulfill your current project requirements. You can also include some details regarding the financial standing of your organization to show the need in further detail. Use the template as the guide for the information you need such as Your Mission and Your Success Stories.
Needs Assessment - This is an especially important section, as you will have to show the need that you want to address and how it came about in the community. You will do well to detail the history of the issue and how previous projects by other organizations might have failed in addressing the need correctly. As part of the needs assessment, you need to explain how your project will address the need and how you intend to succeed where others have failed. Your research and understanding of the full extent of the community need will serve you well in compiling this section. You should assume that the grantee does not have any knowledge of the situation and the need that you are trying to address with your project, so give all the details available. Your research and how you communicate this knowledge will be a measure of success in this section. This is where you build credibility with your grantee and show your ability to deliver the project successfully. Be clear about who the project beneficiaries will be and how the problem/issue has evolved over time.
Projects and Activities - Here you will detail how the project will roll out and what the specific activities will be of the project. Take the grantee through every aspect of your project and explain how each activity will benefit the community or need. This will be the project roll-out plan and you should provide your reader with the timeline and delivery dates of the various aspects of your project. Each activity should be spelled out so that your grantee will know exactly where you will be mobilizing the grant to fulfill the project.
Goals and Objectives - Once you have outlined the project you need to give your grantee the various goals and specific objectives of each goal so that they can see that you have thoroughly researched and planned your project for the maximum effect. Each goal should have at least 1 objective that can be measured according to a timeline so that your grantee can visualize a timeline for the completion of the project. For each Goal and Objective, you should outline the benefits to all concerned - the beneficiaries, the grantee, and the overall community so that the full effect of your project becomes clear. Also, show how your objectives will be measured and according to which baselines each will be evaluated. This will help your grantee understand that you have done your homework and know exactly what is expected of you to complete the project.
Strategies - The strategies that you will employ to complete your goals and objectives should be the detailed step-by-step plan that you will roll out once the grant has been awarded. These strategies must show how you will employ the grant funding and how it will be distributed through your organization to complete the project. Be sure to show that you have allocated enough resources and redundancy to your strategies so that you will make a success of your project. You might want to add graphics to give a visual representation of your project and how the strategies will work in unison to fulfill the need and your project.
Project Evaluation - Project evaluation is key to your grantees; they want to know how you will measure success and who will be measuring your success. You should detail the metrics that you will be using for evaluation and whether you will be using an independent evaluator to maintaining the integrity of your project. As part of this section, you should show how each objective will be evaluated and how these objective results will culminate in the evaluation of each of the goals of your project. The results of your evaluation should be shared with your grantee and if you are using outside evaluators you will provide their details in this section as well. This will build on your credibility report with your grantee as they will know exactly how you are doing at each leg of the project.
Future Funding - In many cases your project will not be the only project that will attempt to address the problem you have highlighted. Your project needs to show how you will generate future funding from other sources to maintain the sustainability of your project. Grant proposal templates are aimed at securing the core funding for your project. You should be detailing your ability to sustain your project 5 years beyond the initial grant funding as this will communicate your ability to continually build on your project and further the benefit to the community or project beneficiaries. Also, address whether your project is a pilot project or if it a continuation of an existing project. These details will be vitally important to your prospective grantees.
Budget Information - As one of the most important sections of your grant proposal, the budget information must be complete. You must show your grantee that you have planned the budget to address every aspect of your project and how you will implement measures to control the budget to prevent excessive expenditure or loss of funding. Include a detailed table of your expenditures and the full funding need of your project. These deliverables will give the grantee the information that they need to evaluate how they will be able to offer you the grant. By detailing the costs and needs you might even allow for the grantee to assist in other ways than just a funding partner. You might inspire the grantee to get involved in a more significant manner. You should also address inflation and price changes for any items in the budget that might need to be purchased over time and how you have allowed for these potential budgetary issues.

Appendixes - This section is where you provide your grantee with all the relative regulatory certificates and registrations of your organization showing that you are a legal entity and have completed all the requirements for your project. You can also include any other information that might be supplemental to your project or the past research on the project and the need it wants to address. This information should be certified as true by an officer of the court so that your information is seen as the legit and fully authorized content of your project. You might also want to give further details of your board of directors and their affiliation to show that you not only have the project plan but the human expertise to meet the challenges of your project.
Submitting a grant proposal for any project is a challenging prospect, but when you use an expertly design template with all the correct sections outlined for your convenience, it becomes a far simpler task. Sign up to get access to over 2,000 templates including this grant proposal template and many other business proposals and get your organization up and running.
Created by lawyers & experts
Professional-looking formatting
Simply fill-in-the-blanks & print
Compatible with all office suites
All the Templates You Need to Plan, Start, Organize, Manage, Finance & Grow Your Business, in One Place.
Templates and Tools to Manage Every Aspect of Your Business.
8 Business Management Modules, In 1 Place.
Download Your Grant Proposal Template and Crush Your Business Goals With The Business in a Box Toolkit
Business in a Box templates are used by over 250,000 companies in United States, Canada, United Kingdom, Australia, South Africa and 190 countries worldwide.