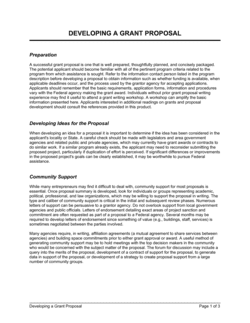 Developing a Grant Proposal Template
This developing a grant proposal template has 3 pages and is a MS Word file type listed under our finance & accounting documents.
Sample of our developing a grant proposal template:
DEVELOPING A GRANT PROPOSAL Preparation A successful grant proposal is one that is well prepared, thoughtfully planned, and concisely packaged. The potential applicant should become familiar with all of the pertinent program criteria related to the program from which assistance is sought. Refer to the information contact person listed in the program description before developing a proposal to obtain information such as whether funding is available, when applicable deadlines occur, and the process used by the grantor agency for accepting applications. Applicants should remember that the basic requirements, appli
All the Templates You Need to Plan, Start, Organize, Manage, Finance & Grow Your Business, in One Place.
Templates and Tools to Manage Every Aspect of Your Business.
8 Business Management Modules, In 1 Place.