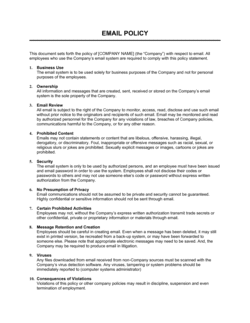 Email Policy Strict Template
This email policy strict template has 1 pages and is a MS Word file type listed under our human resources documents.
Sample of our email policy strict template:
EMAIL POLICY This document sets forth the policy of [COMPANY NAME] (the "Company") with respect to email. All employees who use the Company's email system are required to comply with this policy statement. 1. Business Use The email system is to be used solely for business purposes of the Company and not for personal purposes of the employees. 2. Ownership All information and messages that are created, sent, received or stored on the Company's email system is the sole property of the Company. 3. Email Review All email is subject to the right of the Company to monitor, access, read, disclose and use such email
All the Templates You Need to Plan, Start, Organize, Manage, Finance & Grow Your Business, in One Place.
Templates and Tools to Manage Every Aspect of Your Business.
8 Business Management Modules, In 1 Place.