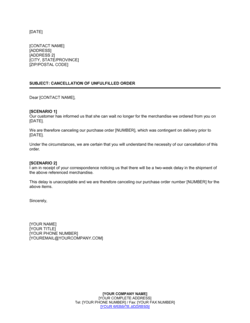 Cancellation of Unfulfilled Order Template
This cancellation of unfulfilled order template has 1 pages and is a MS Word file type listed under our production & operations documents.
Sample of our cancellation of unfulfilled order template:
OBJECT: CANCELLATION OF UNFULFILLED ORDER Dear [CONTACT NAME], [SCENARIO 1] Our customer has informed us that she can wait no longer for the merchandise we ordered from you on [DATE]. We are therefore canceling our purchase order [NUMBER], which was contingent on delivery prior to [DATE]. Under the circumstances, we are certain that you will understand the necessity of our cancellation of this order. [SCENARIO 2] I am in receipt of your correspondence noticing us that there will be a two week delay in the shipment of the
All the Templates You Need to Plan, Start, Organize, Manage, Finance & Grow Your Business, in One Place.
Templates and Tools to Manage Every Aspect of Your Business.
8 Business Management Modules, In 1 Place.