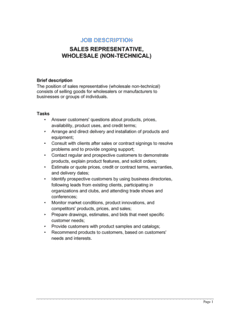 Sales Representative_Wholesale (Non-technical) Job Description Template
This sales representative_wholesale (non-technical) job description template has 2 pages and is a MS Word file type listed under our human resources documents.
Sample of our sales representative_wholesale (non-technical) job description template:
Page 1 JOB DESCRIPTION SALES REPRESENTATIVE, WHOLESALE (NON-TECHNICAL) Brief description The position of sales representative (wholesale non-technical) consists of selling goods for wholesalers or manufacturers to businesses or groups of individuals. Tasks • Answer customers' questions about products, prices, availability, product uses, and credit terms; • Arrange and direct delivery and installation of products and equipment; • Consult with clients after sales or contract signings to resolve problems and to provide ongoing support; • Contact regular and prospective customers to demonstrate products, explain product features, and solicit orders; • Estimate or quote prices, credit or contract terms, warranties, and delivery dates; • Identify prospective customers by using business directories, following leads from existing clients, participating in organizations and clubs, and attending trade shows and conferences; • Monitor
All the Templates You Need to Plan, Start, Organize, Manage, Finance & Grow Your Business, in One Place.
Templates and Tools to Manage Every Aspect of Your Business.
8 Business Management Modules, In 1 Place.