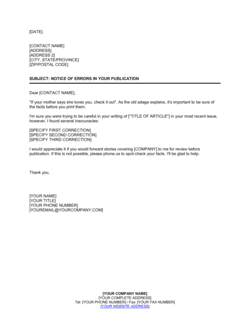 Responding to Inaccurate Press Template
This responding to inaccurate press template has 1 pages and is a MS Word file type listed under our sales & marketing documents.
Sample of our responding to inaccurate press template:
OBJECT: NOTICE OF ERRORS IN YOUR PUBLICATION Dear [CONTACT NAME], "If your mother says she loves you, check it out". As the old adage explains, it's important to be sure of the facts before you print them. I'm sure you were trying to be careful in your writing of ["TITLE OF ARTICLE"] in your most recent issue, however, I found several inaccuracies: [SPECIFY FIRST CORRECTION] [SPECIFY SECOND CORRECTION] [SPECIFY THIRD CORRECTION] I would appreciate it if you would forward stories covering [COMPANY] to me for review before pub
All the Templates You Need to Plan, Start, Organize, Manage, Finance & Grow Your Business, in One Place.
Templates and Tools to Manage Every Aspect of Your Business.
8 Business Management Modules, In 1 Place.