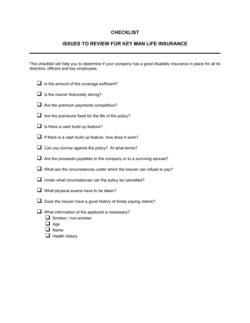 Checklist Key Employee Life Insurance Template
This checklist key employee life insurance template has 1 pages and is a MS Word file type listed under our human resources documents.
Sample of our checklist key employee life insurance template:
CHECKLIST ISSUES TO REVIEW FOR KEY MAN LIFE INSURANCE This checklist will help you to determine if your company has a good disability insurance in place for all its directors, officers and key employees. boxshadowdwn Is the amount of the coverage sufficient? boxshadowdwn Is the insurer financially strong? boxshadowdwn Are the premium payments competitive? boxshadowdwn Are the premiums fixed for the life of the policy? boxshadowdwn Is there a cash build up feature? boxshadowdwn If there is a cash build up feature, how does it work? boxshadowdwn Can you borrow against the policy? At what terms? boxshadowdwn
All the Templates You Need to Plan, Start, Organize, Manage, Finance & Grow Your Business, in One Place.
Templates and Tools to Manage Every Aspect of Your Business.
8 Business Management Modules, In 1 Place.