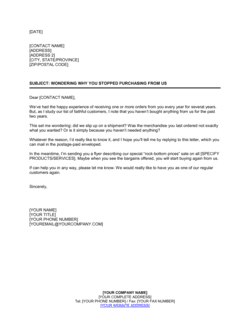 Wondering Why You Stopped Purchasing from Us Template
This wondering why you stopped purchasing from us template has 1 pages and is a MS Word file type listed under our sales & marketing documents.
Sample of our wondering why you stopped purchasing from us template:
OBJECT: WONDERING WHY YOU STOPPED PURCHASING FROM US Dear [CONTACT NAME], We've had the happy experience of receiving one or more orders from you every year for several years. But, as I study our list of faithful customers, I note that you haven't bought anything from us for the past two years. This set me wondering: did we slip up on a shipment? Was the merchandise you last ordered not exactly what you wanted? Or is it simply because you haven't needed anything? Whatever the reason, I'd really like to know it, and I hope yo
All the Templates You Need to Plan, Start, Organize, Manage, Finance & Grow Your Business, in One Place.
Templates and Tools to Manage Every Aspect of Your Business.
8 Business Management Modules, In 1 Place.