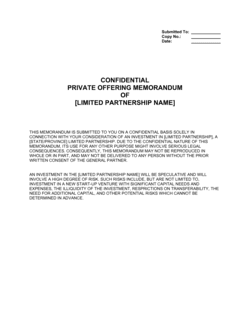 Private Placement Memorandum Template
This private placement memorandum template has 5 pages and is a MS Word file type listed under our legal agreements documents.
Sample of our private placement memorandum template:
Submitted To: Copy No.: Date: CONFIDENTIAL PRIVATE OFFERING MEMORANDUM OF [LIMITED PARTNERSHIP NAME] THIS MEMORANDUM IS SUBMITTED TO YOU ON A CONFIDENTIAL BASIS SOLELY IN CONNECTION WITH YOUR CONSIDERATION OF AN INVESTMENT IN [LIMITED PARTNERSHIP], A [STATE/PROVINCE] LIMITED PARTNERSHIP. DUE TO THE CONFIDENTIAL NATURE OF THIS MEMORANDUM, ITS USE FOR ANY OTHER PURPOSE MIGHT INVOLVE SERIOUS LEGAL CONSEQUENCES. CONSEQUENTLY, THIS MEMORANDUM MAY NOT BE REPRODUCED IN WHOLE OR IN PART, AND MAY NOT BE DELIVERED TO ANY PERSON W
All the Templates You Need to Plan, Start, Organize, Manage, Finance & Grow Your Business, in One Place.
Templates and Tools to Manage Every Aspect of Your Business.
8 Business Management Modules, In 1 Place.