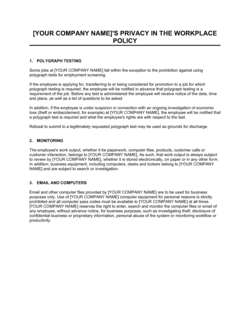 Policy on Privacy and Employee Monitoring Template
This policy on privacy and employee monitoring template has 1 pages and is a MS Word file type listed under our human resources documents.
Sample of our policy on privacy and employee monitoring template:
[YOUR COMPANY NAME]'S PRIVACY IN THE WORKPLACE POLICY 1. POLYGRAPH TESTING Some jobs at [YOUR COMPANY NAME] fall within the exception to the prohibition against using polygraph tests for employment screening. If the employee is applying for, transferring to or being considered for promotion to a job for which polygraph testing is required, the employee will be notified in advance that polygraph testing is a requirement of the job. Before any test is administered the employee will receive notice of the date, time and place, as well as a list of questions to be asked. In addition, if the employee is under suspi
All the Templates You Need to Plan, Start, Organize, Manage, Finance & Grow Your Business, in One Place.
Templates and Tools to Manage Every Aspect of Your Business.
8 Business Management Modules, In 1 Place.