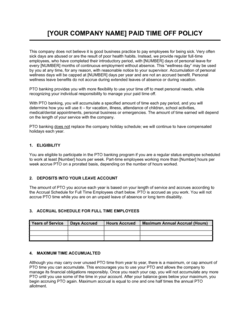 Paid-Time-Off Policy Template
This paid-time-off policy template has 2 pages and is a MS Word file type listed under our human resources documents.
Sample of our paid-time-off policy template:
[YOUR COMPANY NAME] PAID TIME OFF POLICY This company does not believe it is good business practice to pay employees for being sick. Very often sick days are abused or are the result of poor health habits. Instead, we provide regular full-time employees, who have completed their introductory period, with [NUMBER] days of personal leave for every [NUMBER] months of continuous employment without absence. This "wellness day" may be used by you at any time, for any reason, with reasonable notice to your supervisor. Accumulation of personal wellness days will be capped at [NUMBER] days per year and are not an accrued
All the Templates You Need to Plan, Start, Organize, Manage, Finance & Grow Your Business, in One Place.
Templates and Tools to Manage Every Aspect of Your Business.
8 Business Management Modules, In 1 Place.