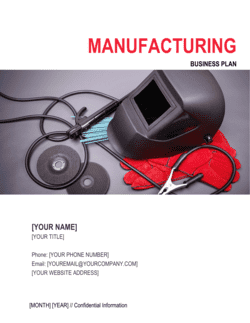 Manufacturing Business Plan Template
This manufacturing business plan template has 33 pages and is a MS Word file type listed under our business plan kit documents.
Sample of our manufacturing business plan template:
[YOUR COMPANY NAME] [YOUR NAME] [YOUR ADDRESS] [YOUR CITY], [YOUR STATE/PROVINCE] [YOUR ZIP/POSTAL CODE] [YOUR PHONE NUMBER] [YOUR EMAIL@YOURCOMPANY.COM]
All the Templates You Need to Plan, Start, Organize, Manage, Finance & Grow Your Business, in One Place.
Templates and Tools to Manage Every Aspect of Your Business.
8 Business Management Modules, In 1 Place.