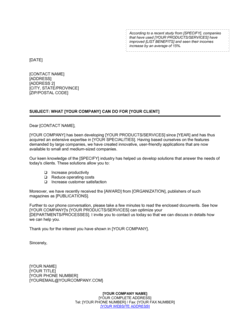 Introduction Letter Template
This introduction letter template has 2 pages and is a MS Word file type listed under our sales & marketing documents.
Sample of our introduction letter template:
OBJECT: WHAT [YOUR COMPANY] CAN DO FOR [YOUR CLIENT] Dear [CONTACT NAME], [YOUR COMPANY] has been developing [YOUR PRODUCTS/SERVICES] since [YEAR] and has thus acquired an extensive expertise in [YOUR SPECIALITIES]. Having based ourselves on the features demanded by large companies, we have created innovative, user-friendly applications that are now available to small and medium-sized companies. Our keen knowledge of the [SPECIFY] industry has helped us develop solutions that answer the needs of today's clients. These soluti
All the Templates You Need to Plan, Start, Organize, Manage, Finance & Grow Your Business, in One Place.
Templates and Tools to Manage Every Aspect of Your Business.
8 Business Management Modules, In 1 Place.