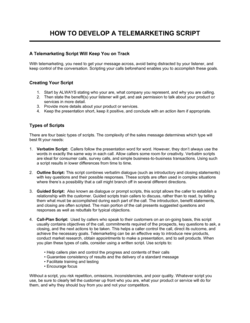 How to Develop a Script Template
This how to develop a script template has 2 pages and is a MS Word file type listed under our sales & marketing documents.
Sample of our how to develop a script template:
HOW TO DEVELOP A TELEMARKETING SCRIPT A Telemarketing Script Will Keep You on Track With telemarketing, you need to get your message across, avoid being distracted by your listener, and keep control of the conversation. Scripting your calls beforehand enables you to accomplish these goals. Creating Your Script 1. Start by ALWAYS stating who your are, what company you represent, and why you are calling. 2. Then state the benefit(s) your listener will get, and ask permission to talk about your product or services in more detail. 3. Provide more details about your product or services. 4. Keep the presentatio
All the Templates You Need to Plan, Start, Organize, Manage, Finance & Grow Your Business, in One Place.
Templates and Tools to Manage Every Aspect of Your Business.
8 Business Management Modules, In 1 Place.