Dress Code Policy Template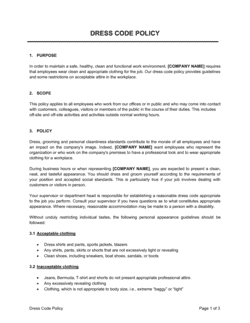 This dress code policy template has 3 pages and is a MS Word file type listed under our human resources documents.
Sample of our dress code policy template:
DRESS CODE POLICY 1. PURPOSE In order to maintain a safe, healthy, clean and functional work environment, [COMPANY NAME] requires that employees wear clean and appropriate clothing for the job. Our dress code policy provides guidelines and some restrictions on acceptable attire in the workplace. 2. SCOPE This policy applies to all employees who work from our offices or in public and who may come into contact with customers, colleagues, visitors or members of the public in the course of their duties. This includes off-site and off-site activities and activities outside normal working hours. 3. POLICY Dress, grooming and personal cleanliness standards contribute to the morale of all employees and have an impact on the company's image. Indeed, [COMPANY NAME] want employees who represent the organization or who work on the company's premises to have a professional look and to wear appropriate clothing for a workplace.