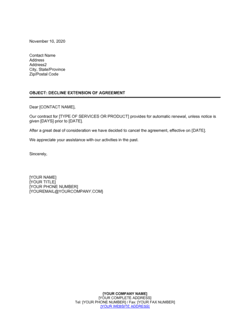 Decline Extension of Agreement Template
This decline extension of agreement template has 1 pages and is a MS Word file type listed under our legal agreements documents.
Sample of our decline extension of agreement template:
OBJECT: DECLINE EXTENSION OF AGREEMENT Dear [CONTACT NAME], Our contract for [TYPE OF SERVICES OR PRODUCT] provides for automatic renewal, unless notice is given [DAYS] prior to [DATE]. After a great deal of consideration we have decided to cancel the agreement, effective on [DATE]. We appreciate your assistance with our activities in the past. [YOUR NAME] [YOUR TITLE] [YOUR PHONE NUMBER] [YOUREMAIL@YOURCOMPANY.COM] [YOUR COMPANY NAME] [YOUR COMPLETE ADDRESS] Tel: [YOUR PHONE NUMBER] / Fax: [YOUR FAX NUMBER] [YOUR
All the Templates You Need to Plan, Start, Organize, Manage, Finance & Grow Your Business, in One Place.
Templates and Tools to Manage Every Aspect of Your Business.
8 Business Management Modules, In 1 Place.