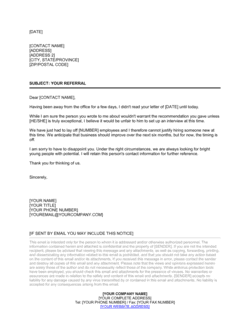 Decline to Interview Referred Job Applicant Template
This decline to interview referred job applicant template has 2 pages and is a MS Word file type listed under our human resources documents.
Sample of our decline to interview referred job applicant template:
OBJECT: YOUR REFERRAL Dear [CONTACT NAME], Having been away from the office for a few days, I didn't read your letter of [DATE] until today. While I am sure the person you wrote to me about wouldn't warrant the recommendation you gave unless [HE/SHE] is truly exceptional, I believe it would be unfair to him to set up an interview at this time. We have just had to lay off [NUMBER] employees and I therefore cannot justify hiring someone new at this time. We anticipate that business should improve over the next six months, but f
All the Templates You Need to Plan, Start, Organize, Manage, Finance & Grow Your Business, in One Place.
Templates and Tools to Manage Every Aspect of Your Business.
8 Business Management Modules, In 1 Place.