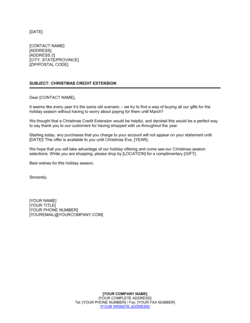 Christmas Credit Extension Announcement Template
This christmas credit extension announcement template has 1 pages and is a MS Word file type listed under our credit & collection documents.
Sample of our christmas credit extension announcement template:
OBJECT: CHRISTMAS CREDIT EXTENSION Dear [CONTACT NAME], It seems like every year it's the same old scenario – we try to find a way of buying all our gifts for the holiday season without having to worry about paying for them until March? We thought that a Christmas Credit Extension would be helpful, and decided this would be a perfect way to say thank you to our customers for having shopped with us throughout the year. Starting today, any purchases that you charge to your account will not appear on your statement until [DATE]
All the Templates You Need to Plan, Start, Organize, Manage, Finance & Grow Your Business, in One Place.
Templates and Tools to Manage Every Aspect of Your Business.
8 Business Management Modules, In 1 Place.