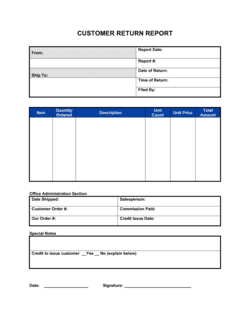 Customer Return Report Template
This customer return report template has 1 pages and is a MS Word file type listed under our sales & marketing documents.
Sample of our customer return report template:
CUSTOMER RETURN REPORT From Report Date Report # Ship To Date Of Return Time Of Return Filed By Item QuantityOrdered Description UnitCount Unit Price TotalAmount Office Administration Section Date Shipped Salesperson Customer Order # Commission Paid Our Order # Credit Issue Date Special Notes Credit to issue customer __Yes __ No (explain below) Date: Signature:
All the Templates You Need to Plan, Start, Organize, Manage, Finance & Grow Your Business, in One Place.
Templates and Tools to Manage Every Aspect of Your Business.
8 Business Management Modules, In 1 Place.