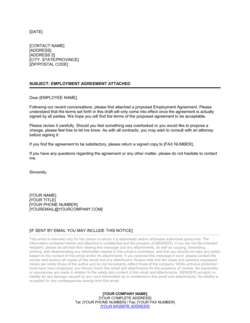 Cover Letter_Employment Agreement Template
This cover letter_employment agreement template has 2 pages and is a MS Word file type listed under our human resources documents.
Sample of our cover letter_employment agreement template:
OBJECT: EMPLOYMENT AGREEMENT ATTACHED Dear [EMPLOYEE NAME], Following our recent conversations, please find attached a proposed Employment Agreement. Please understand that the terms set forth in this draft will only come into effect once the agreement is actually signed by all parties. We hope you will find the terms of the proposed agreement to be acceptable. Please review it carefully. Should you feel something was overlooked or you would like to propose a change, please feel free to let me know. As with all contracts, you m
All the Templates You Need to Plan, Start, Organize, Manage, Finance & Grow Your Business, in One Place.
Templates and Tools to Manage Every Aspect of Your Business.
8 Business Management Modules, In 1 Place.