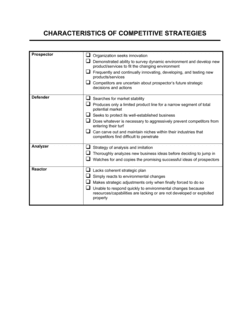 Characteristics of Competitive Strategies Template
This characteristics of competitive strategies template has 1 pages and is a MS Word file type listed under our business plan kit documents.
Sample of our characteristics of competitive strategies template:
CHARACTERISTICS OF COMPETITIVE STRATEGIES Prospector boxshadowdwn Organization seeks innovation boxshadowdwn Demonstrated ability to survey dynamic environment and develop new product/services to fit the changing environment boxshadowdwn Frequently and continually innovating, developing, and testing new products/services boxshadowdwn Competitors are uncertain about prospector's future strategic decisions and actions Defender boxshadowdwn Searches for market stability boxshadowdwn Produces only a limited product line for a narrow segment of total potential market boxshadowdwn Seeks to protect its well-establ
All the Templates You Need to Plan, Start, Organize, Manage, Finance & Grow Your Business, in One Place.
Templates and Tools to Manage Every Aspect of Your Business.
8 Business Management Modules, In 1 Place.