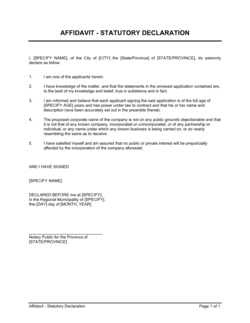 Affidavit Statutory Declaration Template
This affidavit statutory declaration template has 1 pages and is a MS Word file type listed under our legal agreements documents.
Sample of our affidavit statutory declaration template:
AFFIDAVIT - STATUTORY DECLARATION I, [SPECIFY NAME], of the City of [CITY] the [State/Province] of [STATE/PROVINCE], do solemnly declare as follow: 1. I am one of the applicants herein. 2. I have knowledge of the matter, and that the statements in the annexed application contained are, to the best of my knowledge and belief, true in substance and in fact. 3. I am informed and believe that each applicant signing the said application is of the full age of [SPECIFY AGE] years and has power under law to contract and that his or her name and description have been accurately set out in the preamble thereto. 4. Th
All the Templates You Need to Plan, Start, Organize, Manage, Finance & Grow Your Business, in One Place.
Templates and Tools to Manage Every Aspect of Your Business.
8 Business Management Modules, In 1 Place.