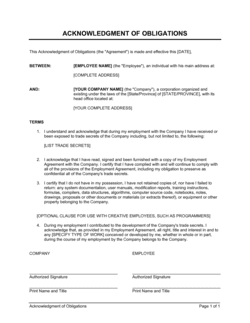 Acknowledgment Of Obligations Contract Template
This acknowledgment of obligations contract template has 1 pages and is a MS Word file type listed under our human resources documents.
Sample of our acknowledgment of obligations contract template:
ACKNOWLEDGMENT OF OBLIGATIONS This Acknowledgment of Obligations (the "Agreement") is made and effective this [DATE], BETWEEN: [EMPLOYEE NAME] (the "Employee"), an individual with his main address at: [COMPLETE ADDRESS] AND: [YOUR COMPANY NAME] (the "Company"), a corporation organized and existing under the laws of the [State/Province] of [STATE/PROVINCE], with its head office located at: [YOUR COMPLETE ADDRESS] TERMS 1. I understand and acknowledge that during my employment with the Company I have received or been exposed to trade secrets of the Company including, but not limited to, the following: [LIST
All the Templates You Need to Plan, Start, Organize, Manage, Finance & Grow Your Business, in One Place.
Templates and Tools to Manage Every Aspect of Your Business.
8 Business Management Modules, In 1 Place.