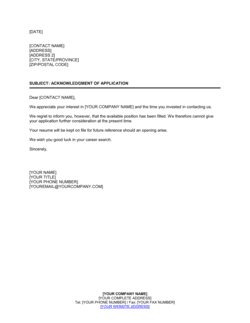 Acknowledgment of Application_Job Position Filled Template
This acknowledgment of application_job position filled template has 1 pages and is a MS Word file type listed under our human resources documents.
Sample of our acknowledgment of application_job position filled template:
OBJECT: ACKNOWLEDGMENT OF APPLICATION Dear [CONTACT NAME], We appreciate your interest in [YOUR COMPANY NAME] and the time you invested in contacting us. We regret to inform you, however, that the available position has been filled. We therefore cannot give your application further consideration at the present time. Your resume will be kept on file for future reference should an opening arise. We wish you good luck in your career search. [YOUR NAME] [YOUR TITLE] [YOUR PHONE NUMBER] [YOUREMAIL@YOURCOMPANY.COM] [YOUR COMP
All the Templates You Need to Plan, Start, Organize, Manage, Finance & Grow Your Business, in One Place.
Templates and Tools to Manage Every Aspect of Your Business.
8 Business Management Modules, In 1 Place.