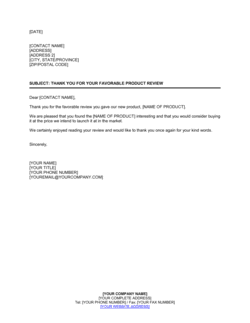 Thank You for Favorable Product Review Template
This thank you for favorable product review template has 1 pages and is a MS Word file type listed under our sales & marketing documents.
Sample of our thank you for favorable product review template:
OBJECT: THANK YOU FOR YOUR FAVORABLE PRODUCT REVIEW Dear [CONTACT NAME], Thank you for the favorable review you gave our new product, [NAME OF PRODUCT]. We are pleased that you found the [NAME OF PRODUCT] interesting and that you would consider buying it at the price we intend to launch it at in the market. We certainly enjoyed reading your review and would like to thank you once again for your kind words. [YOUR NAME] [YOUR TITLE] [YOUR PHONE NUMBER] [YOUREMAIL@YOURCOMPANY.COM] [YOUR COMPANY NAME] [YOUR COMPLETE ADDRES
All the Templates You Need to Plan, Start, Organize, Manage, Finance & Grow Your Business, in One Place.
Templates and Tools to Manage Every Aspect of Your Business.
8 Business Management Modules, In 1 Place.