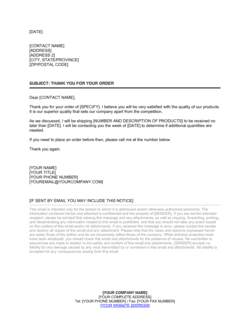 Thank You for Your Order Template
This thank you for your order template has 1 pages and is a MS Word file type listed under our sales & marketing documents.
Sample of our thank you for your order template:
OBJECT: THANK YOU FOR YOUR ORDER Dear [CONTACT NAME], Thank you for your order of [SPECIFY]. I believe you will be very satisfied with the quality of our products. It is our superior quality that sets our company apart from the competition. As we discussed, I will be shipping [NUMBER AND DESCRIPTION OF PRODUCTS] to be received no later than [DATE]. I will be contacting you the week of [DATE] to determine if additional quantities are needed. If you need to place an order before then, please call me at the number below. Tha
All the Templates You Need to Plan, Start, Organize, Manage, Finance & Grow Your Business, in One Place.
Templates and Tools to Manage Every Aspect of Your Business.
8 Business Management Modules, In 1 Place.